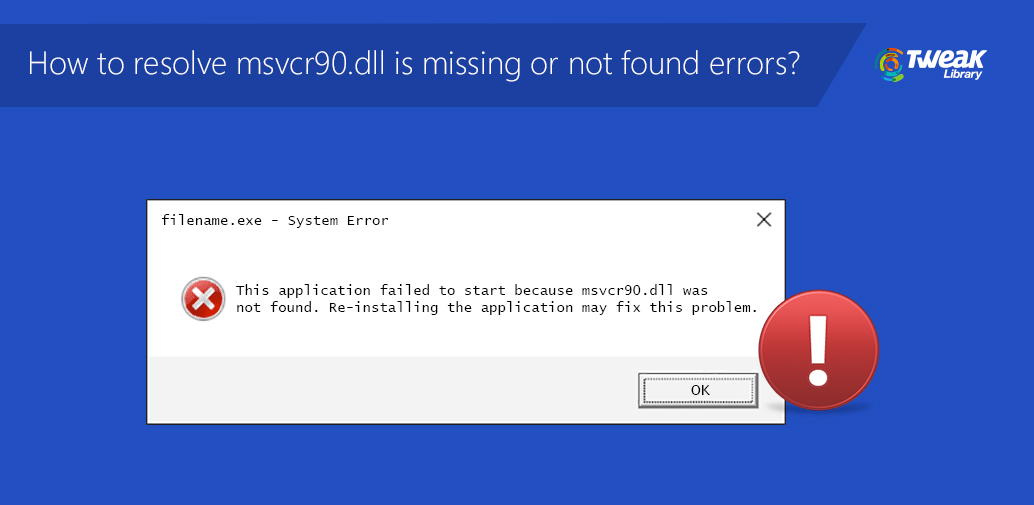 691
msvcr90.dll error messages might appear while using or installing certain programs. The error can also be encountered when Windows boots or shuts down, or maybe even during a Windows installation.
Under many circumstances when msvcr90.dll file gets corrupted or is removed you may receive this error. In some cases, it could even indicate a virus or malware issue, a registry prob5756lem or even a hardware failure.
There are several reasons owing which msvcr90.dll errors can show up on your computer. Screenshot below shows the most common msvcr90.dll error messages: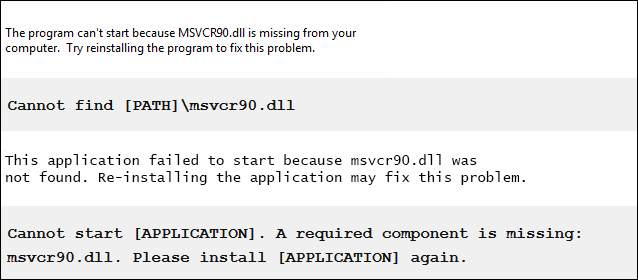 The msvcr90.dll error message could apply to any program or system that might utilize the file on any of Microsoft's Operating System including Windows 10/8/7/vista and older versions.
What is msvcr90.dll?
It is a type of DLL file related with Microsoft® Visual Studio® 2008 for the Windows Operating System.
How to fix msvcr90.dll errors
Important: It is always recommended to obtain and download msvcr90.dll from its original, legitimate source. Downloading it from any third-party website is never advised.
Note:  If you're unable to access Windows normally due to the msvcr90.dll error, start Windows in Safe Mode. Once your PC is in Safe Mode try using the different methods mentioned below to resolve the problem:
· Download the Microsoft® Visual Studio® 2008 Program Service Pack 1 Redistributable Package MFC Security Update:
You can download the "Microsoft Visual C++ 2008 Service Pack 1 Redistributable Package MFC Security Update" and run it. This will replace/restore the msvcr90.dll with the most recent copy provided by Microsoft.
You can see several download options from Microsoft for this update, based on the version of Windows you have installed – x86 (32-bit) or x64 (64-bit).
· Restore msvcr90.dll from the Recycle Bin:
You can restore msvcr90.dll from the Recycle Bin. The lightest possible cause of a missing msvcr90.dll file is that you have deleted it mistakenly.
· Run a virus/malware scan:
You can run a virus/malware scan of your entire system. The error could be related to a virus or other malware infection on your computer that has damaged the DLL file. It's even possible that the msvcr90.dll error you're seeing is related to a hostile program that's disguising as the file.
· System Restore:
You can do System Restore to undo recent system changes. If you suspect that the msvcr90.dll error was caused by a change made to an important file or configuration, a System Restore could solve the problem.
· Reinstallation of the program:
Reinstall the program that uses the msvcr90.dll file. If the msvcr90.dll error occurs when you use a program, reinstalling the program should replace the file.
· Update the Device drivers:
Update the drivers that might be related to msvcr90.dll. Msvcr90.dll errors can be related to corrupt or outdated device drivers. Sometimes drivers did not work due to variety of reasons. The good news is that you can update the device driver to fix the DLL problem.
· Windows updates:
Install any available Windows updates. Latest windows update replaces some of the hundreds of Microsoft distributed DLL files on your computer. The msvcr90.dll file could be included in one of those updates.
· Startup Repair:
Repair your installation of Windows. You can also perform a startup repair which should restore all Windows DLL files to their working versions.
· Perform a Clean Installation of Windows
If the error still not resolve using the above steps. Then this is the final step to resolve your msvcr90.dll error. Reinstalling a fresh Windows will erase everything from your hard drive, allowing you to start again with a fresh system.
Note:
If msvcr90.dll errors still persist after a clean install of Windows, your DLL problem must be hardware related.  If that is the case, then you need to replace the associated hardware causing the msvcr90.dll error.