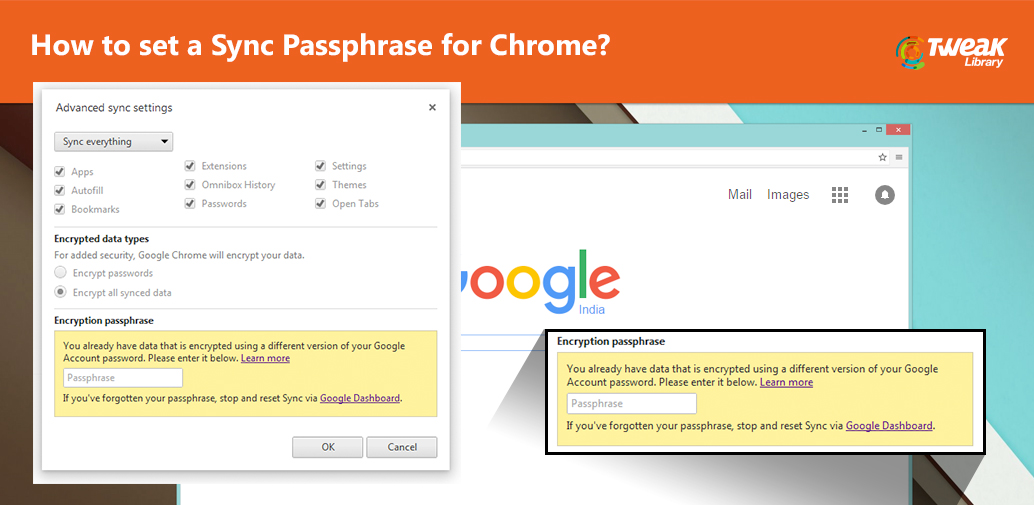 In the previous article, we have discussed how to sync our chrome data between various devices. However, wouldn't it be better if there would be something like two-step verification before we start syncing on any of the devices. Additionally, your Google account password is the only password required to start the syncing. Therefore, if in any case, someone else gains the access to your Google account password, he can easily sync your data to his own device and gain access to all of your confidential stuff.
What is a Sync Passphrase?
A sync passphrase is a password which provides an additional layer of security to your sync data. In other words, a sync passphrase encrypts the user's sync data. Now, whenever you sign into Chrome on a new device you need to enter the sync passphrase, in order to continue syncing of the data. The most important thing is that when you set a sync passphrase, even Google can't look into your data.
Also read: How to Disable Physical Location Setting in Chrome and Firefox
How to create a Sync Passphrase for Chrome?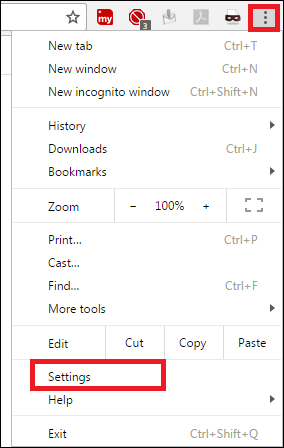 Open Chrome and click on the three dots at the right corner of the screen. Now from the drop down menu click on Settings option.

Now click on Sign into Chrome, if you haven't signed in yet.

Once you are signed in click on Advanced sync settings.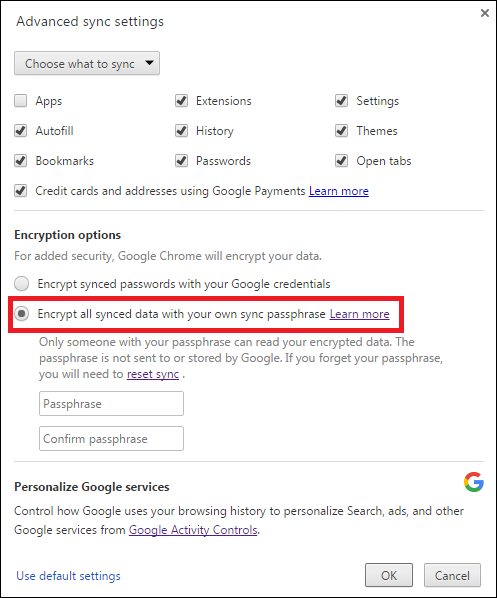 In the Encryption options, enable Encrypt all synced data with your own sync passphrase. Now set the desired passphrase and click on ok.

Now, whenever you sign into Chrome on a new device you will be asked to enter the passphrase to start the sync. Click on Enter passphrase.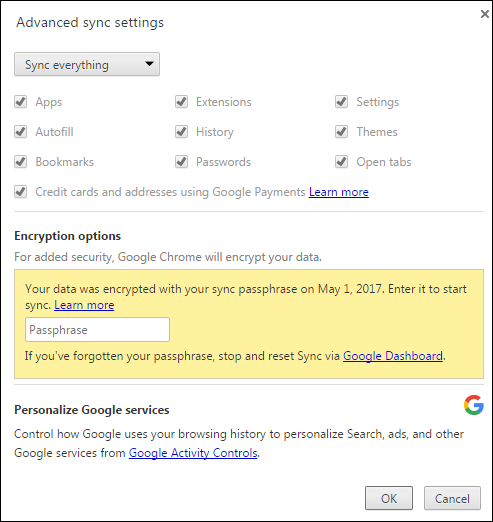 Now in the new window type your passphrase which you have set and click OK. Now your sync will start.
If you wish to keep all of the browser data strictly private that even Google can't read it then setting a sync passphrase is the best available option. However please set a passphrase which you can easily remember as in case you forget it, Google also can't help you to recover it. The only option you will be left with is to reset it.