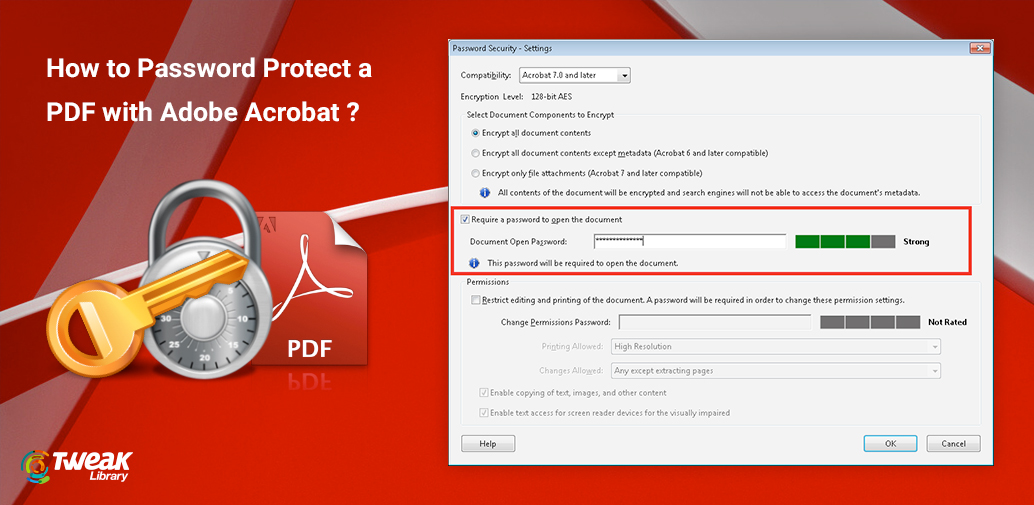 Portable document format (PDF) is a common format used to present and exchange documents with other users.
PDFs can be editable if they are not password protected; however, you can protect your document for further changes or unauthorized reading. You can create password protected PDFs with Adobe's Acrobat, which offers a 7-day trial. Additionally, PDFs can be signed electronically and easily viewed using free Acrobat Reader.
You can try the following method to password protect a PDF.
Also learn: Unlock PDF Files – How to remove password from PDF Files
Password protecting a PDF with Adobe Acrobat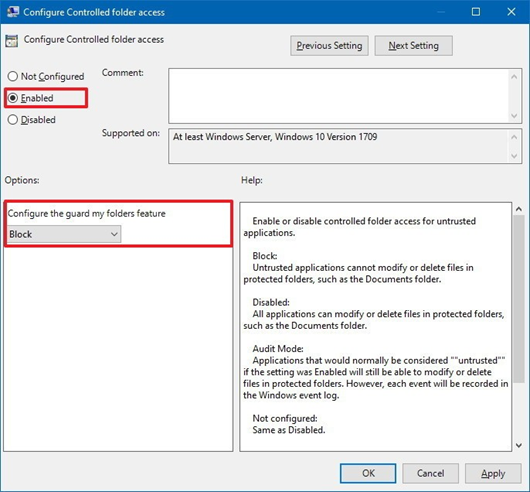 Go to the Adobe Acrobat free trial page and click the blue Get started button. You will need to sign up for an Adobe Creative Cloud account, fill the required information. You will need to create a password for your new Adobe account. This will allow you to download the trial version of Adobe Acrobat. Now, install the trial version of Adobe Acrobat Pro DC.

After installation of trail version, launch Adobe Acrobat, click the File menu in the upper-left corner and select Open. You will need to sign-in with the account you created in step one. Later, choose the PDF file you want to password protect from its respective save location and click the Open button.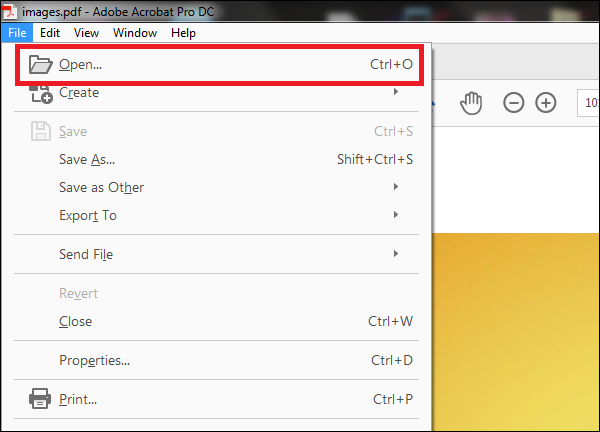 Click the File menu again when viewing the open document, followed by Properties and a new window will pop-up.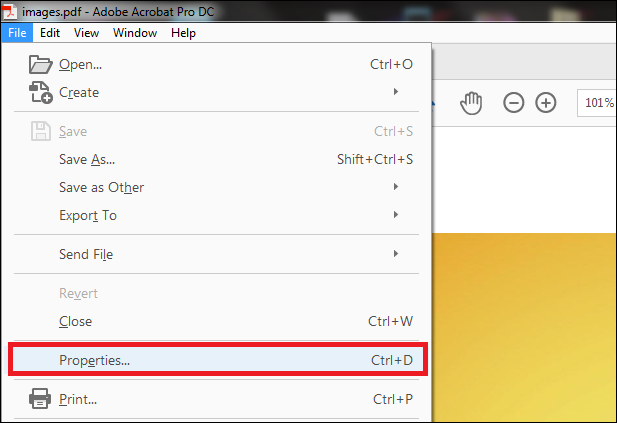 Click the drop-down menu beside Security Method, then select Password Security from the list of resulting list of options.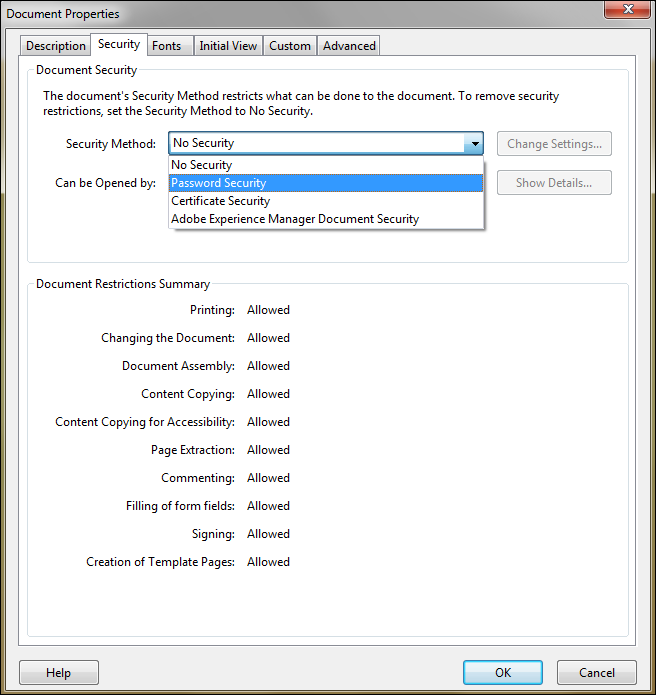 A window should appear prompting you for a password. Check mark the box beside Require a password to open the document and enter your desired password in the corresponding text field. Considering you're sending this password to others, it's probably best to choose one that you don't use for other services. Try to make a password which includes a combination of lower-case letters, capitalization, and numbers.

Restricting edits and printing with Adobe Acrobat
Security menu of Adobe Acrobat will allow you to password protect certain tasks such as editing and printing.
Here's an overview of the available editing limitations.
Inserting, deleting, and rotating pages: This allows the person with access to the document to get rid of parts of the document, add pages, and flip the pages around.
Filling in form fields and signing existing signature fields: This allows the person to fill in sections that have boxes to add text, and electronically sign the document.
Commenting, filling in form fields and signing existing signature fields: This allows the person to leave comments on the document, fill in sections that have boxes to add text, and electronically sign the document.
Any edits except extracting pages: this allows others to make any necessary changes to the document except for cutting it down.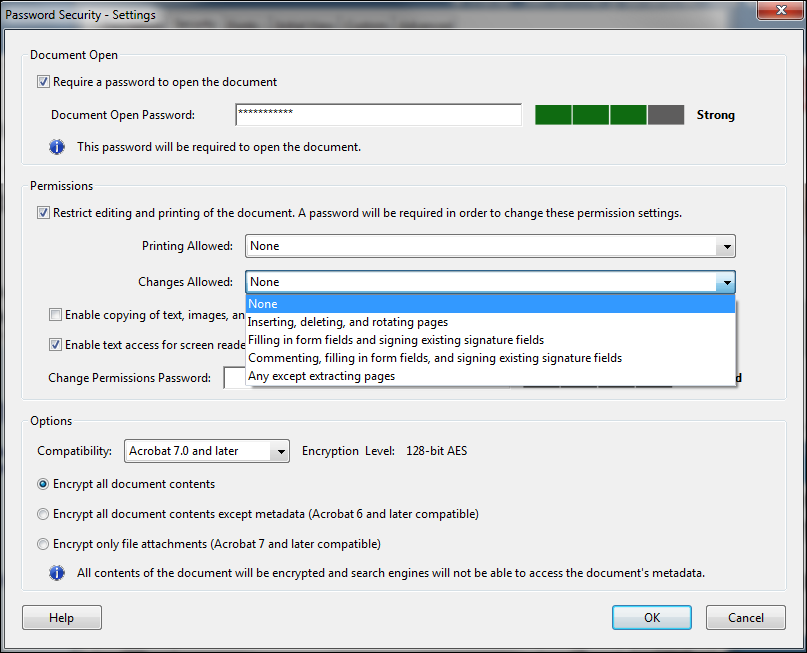 You can enable these features in Adobe Acrobat.
Open the PDF document, access the Security panel as previously outlined.
Select Change Settings to access the Password Security menu. From there, checkmark the box beside Restrict editing and printing and enter a password in the box to the right of Change Permissions Password, click OK button.
You will be asked to confirm your password before changes are saved.

That's it! Now your PDF is password protected. When opened, this password prompt will automatically appear.

Using this tutorial, you can protect particularly sensitive documents, especially when you store them on a USB drive or in an online storage like Google Drive.